Paying with Payson
Use your Payson account when you shop online; it makes both selling and buying easier. You can pay to the seller's e-mail address – which means that you don't have to remember all those complicated bank account numbers. Choose from a multitude of payment methods, e.g. via your online bank account or by using your credit card. When you're selling, there's no need to provide any sensitive account information – and you'll receive payments directly, without delays.
When logged into your account, you'll have access to your entire transaction history and can administer your payments.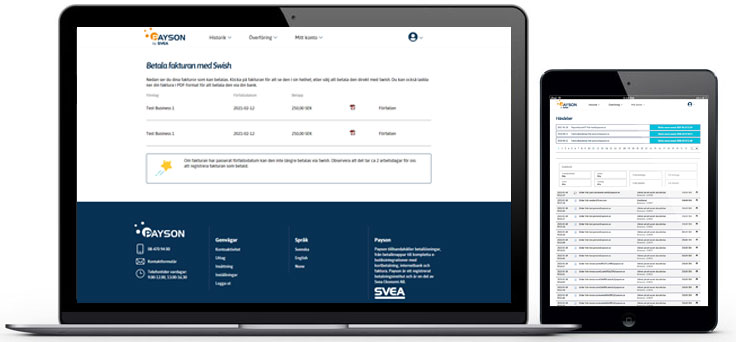 Buy and sell using Payson

Use your account when you're selling, buying, and paying individuals, such as when you're shopping on ad sites such as Blocket and Tradera. And use your account when you're shopping on any of the thousands of online shops that are already using our payment options.

Pay quickly and securely

You will be paying in real-time – and the seller will be notified directly once you've paid. In other words, there's no longer any need for you to wait until your payment reaches the seller's bank. When you pay, you'll be on a secure website where no one will be able to see your banking details or sensitive card information. The seller will only be able to see your e-mail address and your name as the payment sender.

For extra purchase protection, you can also select the service PaysonGuarantee. Payson has partnered with the major Swedish banks and well-known card companies and other actors to be able to offer you the payment method that suits you best.

Simple when selling

When you are selling online, it's simple for buyers to pay you without delay and without your having to search for payments already made. We'll notify you directly once someone pays you, which means that you can ship your item quickly. In your account, you'll have a quick overview of the payments that you have received and you can sort, filter, and search your payment history.
How to make a payment:
First, open an account – it's free.

Go to Transfer, select Pay and follow the instructions to execute the payment.

That's it! The seller has now been paid and you can ship your item when you're ready.