Pay with PaysonAccount
Use the PaysonAccount when you are shopping online, it helps both when you are selling and buying. With PaysonAccount you pay to the seller's e-mail address – therefore, you can forget everything about complicated bank account numbers. You can choose from many different payment methods, e.g. your Internet bank or your credit card. When you are selling, you do not have to give away any sensitive account information and you will receive the payment directly, without any delays.
Once you are logged in to your PaysonAccount, you can see your complete transaction history and administrate your payments.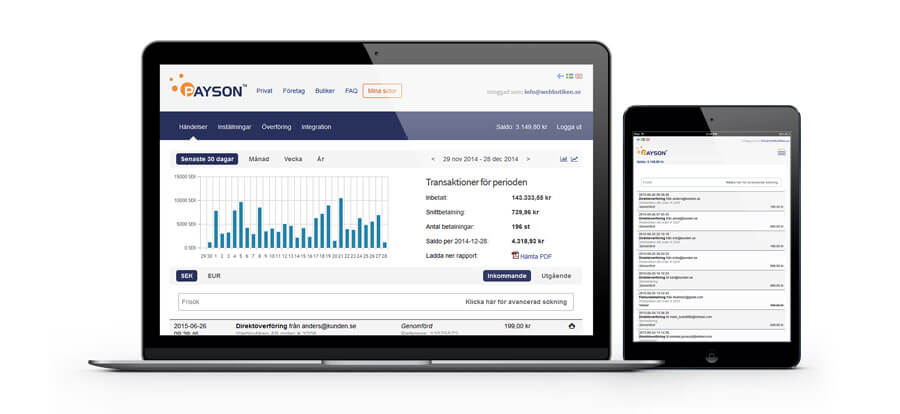 Buy and sell with PaysonAccount

Use the account when you are selling, buying and paying to private individuals, for instance when you are shopping on ad sites such as Blocket and Tradera. The account is also used when you are shopping at one of the tens of thousands e-shops that uses Payson as a payment method.

Pay quickly and securely

You pay in real time – and the seller will immediately receive a notice that you have made the payment. In other words, you do not have to wait for your payment to reach the seller's bank. When you are paying, you will be on a secure website where no one can see your bank information or sensitive card information. The seller will only see your e-mail address and your name as the payment sender. For an additional protection of the purchase, you can also add the service PaysonGuarantee™. Payson collaborates with the biggest Swedish banks and well-known card companies, as well as other actors to be able to provide the payment method that suits you the most.

Easy when you are selling

When you are selling online, buyers can easily pay you without any delay and without the need for you to look for the payments. You will immediately get a message from us when someone has made a payment you and you can quickly send the goods. In your PaysonAccount you can clearly see which payments you have received and sort, filter and search among the payments if there are many.
How to make a payment:
First create a PaysonAccount, it is free of charge.
Go to Transfer, choose Pay and follow the instructions to perform the payment.
You are done! The seller has now gotten paid and can send the goods right away.