All payment methods with one contract

No entry fee, no fixed fee

Get started within 24 hours
Payment options for e-commerce
Payson's payment solution for e-commerce, Payson Checkout, is designed to maximize the number of payments made. The solution supports all payment methods and has a nice design that is easy to understand.
As a business customer at Payson you will gain access to a series of smart functions in your PaysonAccount for businesses. Here you can for instance create monthly reports, keep track of your sales and manage transactions. There are current custom-made offers for those who run an e-shop under the tab "Marketing". There you can also upload your shop to the page Local e-shops (in Swedish). Perfect for those who want to get help with additional marketing!
Choose the alternative that suits you the most
Choose between the new Payson Checkout, the payment solution that directly integrates with your e-shop and where all payment methods are automatically included. Or Payson 1.0, the payment window without a binding period where you are allowed to be flexible about which payment methods you provide. Read more about Payson Checkout below to see which version suits your needs the most!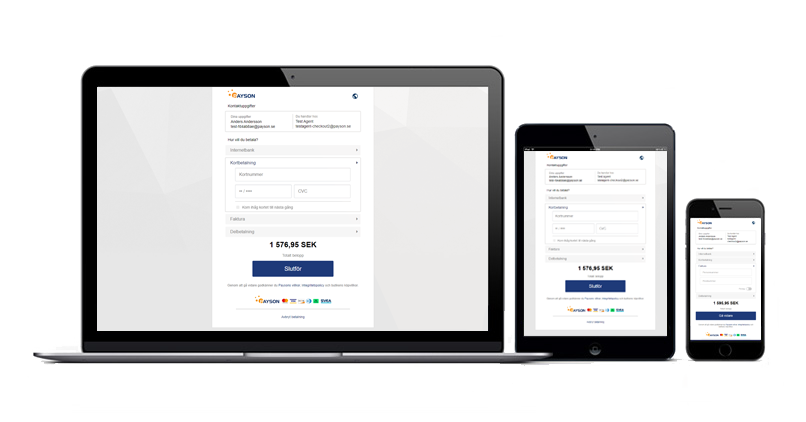 Payson 1.0
A customized payment window where you can be flexible about which payment methods you provide. Perfect if you wish to get started extra fast without any binding period.
No binding period & choose if you want to activate invoice & partial payment (available for Swedish companies)

Opens in a new window

Fee: SEK 3 + 3%
Get started
Get started with your online shop by setting up a business PaysonAccount here and select the technological platform that's right for you. Payson has partnered with many different e-commerce platforms. We also have modules and plug-ins for the most common open-source platforms. Download, install, and get started already today.
If you have any questions or need help getting started, contact Payson's start-up team.
Partners
Use one of Payson's partners to get started with your online shop – it's simple. Payson's partner network includes web agencies, design and open source solutions, and platforms for ticket and booking transactions. Read more about our partners and their products and services here. For questions, please contact Payson's customer service.