PaysonGuarantee™
PaysonGuarantee™ is our most secure solution for payments between private individuals online.
PaysonGuarantee™ guarantees that the purchase price is secured on a locked account until you have received the goods that you have ordered. When you have made the payment* we will notify the seller, who ships the goods directly to you. When you have received and approved the goods, the purchase price will be transferred to the seller. Thus PaysonGuarantee™ functions as a neutral mediator that ensures that neither the seller nor the buyer have both the money and the goods at the same time.
Login to your PaysonAccount to make a secure payment, and add PaysonGuarantee™.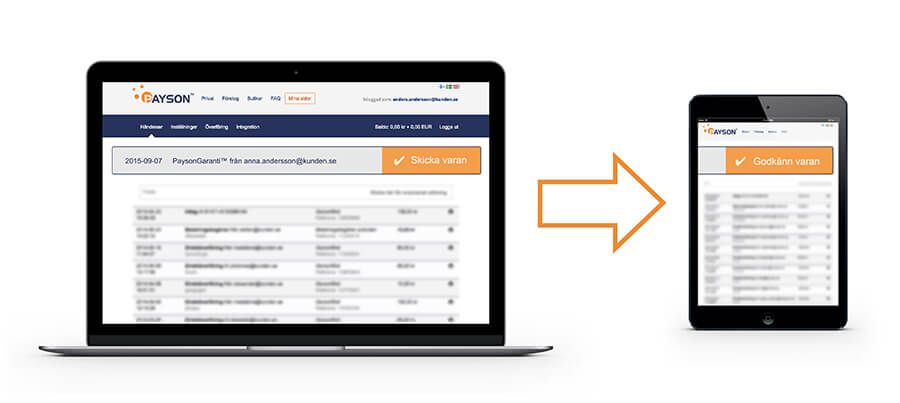 100% protection against fraud

With the additional service PaysonGuarantee™ the seller will not get your money before you have received and inspected the goods.

How does it work?

Instead of transferring your payment directly to the seller, we secure the payment and notify the seller of this. Once you have received the goods you shall approve the transfer in your PaysonAccount – then the seller will receive the money. You can follow the whole transaction in your PaysonAccount.

But what happens if the goods are defective?

If the goods are defective or incorrect you can indicate this in your PaysonAccount, then you will get to return the item to the seller, who accepts the return – the money will then be returned to your PaysonAccount.
Get started in three steps:
Agree with the seller to use PaysonGuarantee™.
Login to your PaysonAccount, go to Transfer and choose Pay.
Enter the seller's e-mail address, check the box PaysonGuarantee™ and pay.

* Please observe that you as a buyer makes the payment while logged in to your PaysonAccount and to the seller's e-mail address, you will never be asked to transfer money to a bank account number.