No setup costs and no monthly fees

Give customers the opportunity to inspect the goods at home and pay later

The market's most requested payment alternative
Charge by invoice
Offer your private and business customers the most sought after payment option on the market, to pay by invoice*. With PaysonInvoice the customer will first receive the goods at home and then pay by invoice afterwards. While you are sending the goods we will e-mail the invoice to the customer. All purchases over SEK 300 can also be paid by the customer by using partial payment*. PaysonInvoice is an add-on to Payson Checkout and can be displayed individually or together with Payson's other payment methods.
* Available for Swedish customers.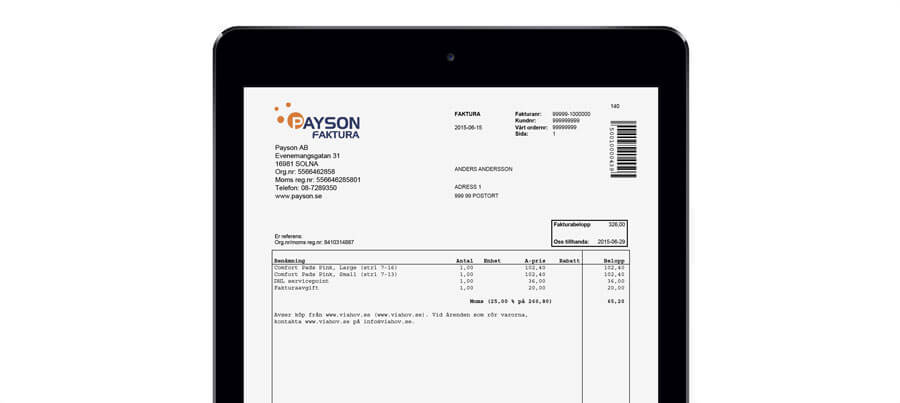 Cost-effective

With PaysonInvoice you avoid startup costs and monthly fees, you only pay when you have gotten paid.

No risk

You will always get paid, whether the customers pays or not, and Payson takes the credit and fraud risk.

Flexible administration

Payson manages the whole process, from credit control and invoice mailings to reminders and follow-ups. You only need to indicate that the goods have been shipped – we take care of the rest.
Get started in three steps:
Create a business account and indicate that you are interested of invoice payments.
You will immediately receive an e-mail with a supplementary agreement for the invoice service.
You will be activated within 24 hours after the agreement has been approved.