Internet payment by bank
To make a direct payment with an Internet bank is common in Sweden. Internet payments are quick and simple and is a payment method that most consumers have the opportunity to perform. With Payson your customers will automatically have the opportunity to pay via Internet bank if it is any of the Swedish banks, such as Swedbank, Handelsbanken, SEB, Nordea or Danske Bank.
For those who sell to Finland, we offer customers to use OP-bank, Sampo Pankki or Nordea Finland. Just as with card payment, the transaction is performed in real time and ends up on your PaysonAccount without any delay.
Direct payment using an Internet bank is a safe and secure payment method that appeals many customers. Internet payment is, together with card payment and invoice, one of the most common payment methods in Sweden.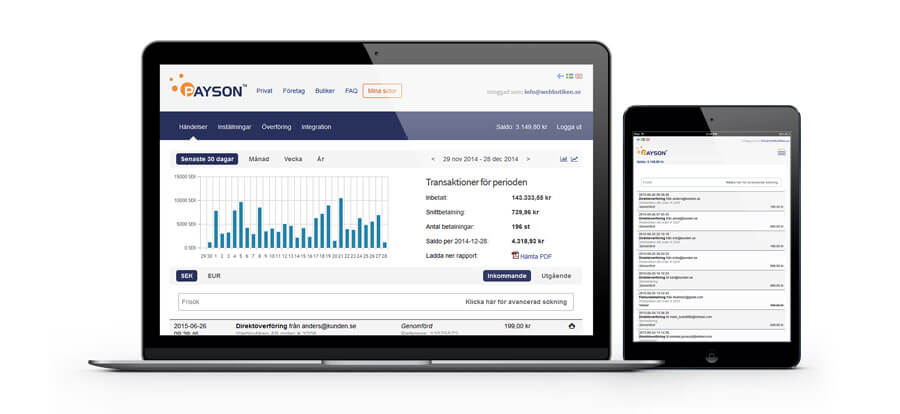 No additional agreement

With Payson Checkout 1.0 there is no need for additional agreements for the customer to access bank payments, and all transactions goes to your company's PaysonAccount.

An appreciated payment method

Over 25% of Payson's users choose to use Internet banking. With an Internet bank transaction, the customer logs in to his bank and approves the payment, safely and familiar.

PaysonAccount for businesses

Since all transactions goes to your company's PaysonAccount, it is simple to check all of your sales. You can generate reports and easily find e.g. customers or amounts.
Get started in three steps:
Create a business account.
The account is activated within one working day.
Connect Payson Checkout with your e-shop.