PaysonCheckout1.0
PaysonCheckout 1.0 is Paysons's flexible payment method without any binding time! Here you can, as an e-trader, offer your customers all payment methods such as card payment, bank payment, partial payment*, invoice and SMS (available in Sweden). You choose yourself if you want to offer invoice and partial payment*. The payment window opens in a new tab and works on all digital devices. Payson's payment solution have no fixed fees and as an entrepreneur you will get started quickly without any efforts!
* Available for Swedish companies.
Easy administration in your PaysonAccount for businesses
In your PaysonAccount for businesses you can easily keep track of the development of your e-shop. Here you can, for instance, check off sales, manage repurchases and returns, and generate sales reports. You will also gain access to marketing tips that can help your e-store to become more visible online!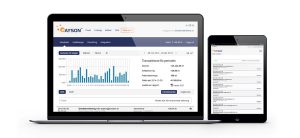 In your PaysonAccount for businesses you get a good overview of your
transactions and you can easily drag-out statistics reports of your sales.
Get started in three steps:
Create a business account.
The account is activated within one working day.
Connect Payson with your e-shop.

Read more about the payment methods for PaysonCheckout 1.0 here.
Try out PaysonCheckout 1.0 in our demo shop.